WHAT IS CERAMIC STAIN ?
Ceramic Stains are metal oxides with complex inorganic structures containing transition elements that are produced by means of a controlled calcination process at high temperatures. Thermal stability, resistance and appropiate particle size provide our pigments with high colour intensity. Their easy dispersion make them optimal for any type of colouration.
HOW DOES IT PROVIDE COLOUR IN THE CERAMIC ?
Ceramic Stains contain matrix with colouring agent in it. The colour is formed due to dispersion of colouring agent/crystals in the glass/glaze matrix .The matrix of ceramic stain embeds the colouring agent and ensures optimum interaction with the incoming light to get the desired colour/shade in the final product. The colour providing substance has to be temperature resistant and also chemically inert in the glaze/glass melt
A full chromatic range of ceramic pigments that provide the best colour stability, high performance and homogeneity are listed below: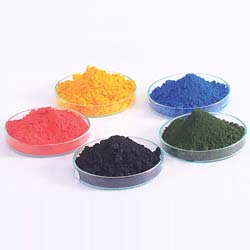 By Type
Glaze Stains
Vitrified Body Stains
By Industry
Tiles
Sanitaryware
Insulator
Potteries
GLAZE STAIN.
| | | | | |
| --- | --- | --- | --- | --- |
| Product Code | Description | "Main Colour Contributing Cations" | Indicative Colour (3% dosing in Standard White Body) | Max Temperature |
| CTD 1051  | Pr. Yellow  | Zr-Pr-Si  | | 1180° C  |
| CTD 2001  | Al. Blue  | Co-Al-Si  | | 1250° C  |
| CTD-8396 | Coral pink | Zr-Fe-Si  | | 1250° C  |
| CTD 2204  | Silica Blue  | Co-Si  | | 1350° C  |
| CTD 3203  | Chrome Green  | Cr-AI  | | 1300° C  |
| CTD 4201  | Roman Brown  | Fe-Cr-Zn  | | 1250° C  |
| CTD 4126  | Red Brown  | Fe-Cr-Zn  | | 1250° C  |
| CTD 2105 | AL Blue | Co-AI- Si | | 1250° C  |
| CTD 6330  | Black  | Mn-Cr -Co-Ni  | | 1250° C  |
| CTD 7018X  | Magenta  | Ca-Sn-Cr  | | 1250° C  |
| CTD-4246 | Wooden brown | Fe-cr-zn | | 1250° C  |
| CTD 2608  | Royal Blue  | Co-Si-P-Ca  | | 1250° C  |
| CTD 1605  | Turquoise Blue | Zr-V-Si  | | 1250° C  |
| CTD-0026 | Blood red   | Cd -se | | 1350° C  |
| CTD-3400 | Co.blue green | Co-cr | | 1250° C  |
| CTD-4701G | Coffee brown | Fe-Cr-Mn-Zn | | 1250° C  |
| CTD-1325 | Golden yellow | Zr-Si-P | | 1250° C  |
| CTD-3626 | Aqua marine blue | Zr-V-Si | | 1250° C  |
| CTD-1290 | Rosso | Cd-Se-Si | | 1250° C  |
| CTD-0076 | Fanta Orange | Cd-Se-Si | | 1250° C  |
| CTD-8326 | Pink | Zr-Fe-si | | 1250° C  |
| CTD-6626 | BhamaBeige | Zr-V-P-Fe-SI | | 1250° C  |
| CTD-3303 | Aqua green | Co-cr | | 1350° C   |
| CTD-6717 | Ivory | Zr-V-P-Fe-SI | | 1250° C  |
BODY STAIN
| | | | | |
| --- | --- | --- | --- | --- |
| Product Code | Description | "Main Colour Contributing Cations" | Indicative Colour (3% dosing in Standard White Body) | Max Temperature |
| CTD 10024  | Al. Blue  | Co-Al-Zn | | 1250° C  |
| CTD 11020  | Si. Blue  | Co-Si-Zn | | 1250° C  |
| CTD 31235  | Orange  | Ti-Sb-Cr  | | 1250° C  |
| CTD 61019  | Black  | Fe-Cr | | 1250° C  |
| CTD 35629 | Mushroom | Ti-Sb-Cr-Fe-Si | | 1250° C  |
| CTD 71101  | Green  | Cr-Si | | 1250° C  |
| CTD 90001  | Ivory  | Ti-Zr-Si-Pr  | | 1300° C  |
| CTD 61029  | Black  | Fe-Cr | | 1300° C  |
| CTD-81190 | CoffeeBrown | Fe-Cr-Al | | 1250° C  |
| CTD 41215  | Pink  | Mn-Al-Ca  | | 1300° C  |
| CTD-10022 | Co.Blue | Co-Al-Zn | | 1300° C  |
| CTD-61125 | Golden brown | Ti-Sb-Cr-W  | | 1250° C  |
| CTD-71100 | Green | Cr-Al | | 1300° C  |
| CTD-56850 | Brick Red | Fe-si | | 1250° C  |
| CTD-31242 | Orange | Ti-Sb-Cr  | | 1250° C   |
| CTD 91005  | Lemon Yellow  | Zr-Pr-Si  | | 1300° C  |
| CTD-81130 | Coffee Brown | Fe-Cr-Al | | 1250° C  |
| CTD-56718 | Tomato Red | Fe-si | | 1250° C  |
| CTD 20001  | Turquoise Blue  | Zr-V-Si  | | 1250° C  |
| CTD 61123  | Chocolate Brown  | Ti-Sb-Cr-W  | | 1250° C  |