Digital Inks
Endura IPNR in association with Ceramco presents DIGI-INK, our range of vibrant digital inks for printing on tiles.
Matching global standards, these inks are made in Spain, using the latest German technology from Zschimmer & Schwarz.
Under the trade name TRUCOLOR, we offer ready-to-use printing inks for tile decoration with digital printing technology.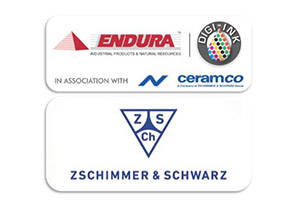 Salient Features & Benefits:
Very fine & uniform particle size distribution of stains to ensure the print-head nozzles don't get clogged.
Higher stain loading for reduced ink consumption.
Specially designed medium for better efficiency and optimum print-head performance.
Self-cleaning property for long lining-free life of print-heads.