Nano "A"
Vitrified polished tiles invariably possess a surface sensitive to staining agents. The problem is accelerated by the demand for shorter firing cycles. The degradation of the surface is mainly due to the opening of the closed pores/micropores during the polishing procedure. High gloss is a very big demand for polished tiles. The gloss value is affected by surface defects and scratches which scatter light thereby reducing the reflection. HiProtect provides a solution to both the above mentioned issues.
WORKING PRINCIPLE
HiProtect - A is a water based compound. When the compound is applied on the tile surface using Nano Polishing equipment, the material enters the micro pores and also fills up any surface defects on the tile surface. This increases the gloss of the tile surface.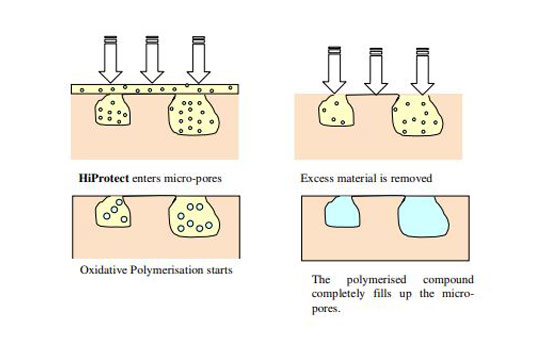 HIPROTECT-A and polymerises, thus sealing the micro pores in the tile body, thus providing a high gloss and stain free surface.
Recommended dosage & directions for use
Application Procedure on Tiles
Spray/pour HiProtect-A on the tile surface followed by buffing using the first (16) heads.
Note:
The products work in combination only.
Packaging & Delivery
HiProtect-A : 250kg HDPE drums
Caution
Keep containers tightly closed
Keep away from direct heat & sunlight